There are many skilful and smart people, who want to find a job in Uganda, but still didn't manage to do this. All they need is a little more knowledge of how and where to do this. Therefore, we want to share our experience and help you find a job in Uganda today!


Where to look for job opportunities?
There are several options to find a job: it can be live search, newspapers, email or internet pages. In my opinion, the best way to find a job is online search. There are many great Ugandan websites for that, where
all the latest jobs
are in one place, for example: MoboFree, Brighter Monday, Great Uganda Jobs or The Uganda Job Line. Usually, there are more ads listed than on the newspapers, because it is cheaper for the employers. It is also faster than live search, because visiting companies can take a lot of time. Internet pages provide the ads for international jobs, online jobs or
NGO jobs
. When you done it, move to the CV writing!
How to write a CV?
Firstly, you have to choose a format for your job vacancies applications, there are many of them on the Internet and begin to fill it in:
• List your name and contact details on the top of the page, so it would be easy to contact you later in case you are a successful candidate.
• Write about your education, not forgetting to mention the year of graduation. Maybe you've attended any additional courses? Mention that!
• Next, tell about your work experience. Write not only the firm an position, but also what you've done there, what you've learned, what skills you've gained.
• Create a section for your achievements. This section is the section where you list any of your published work, lectures you've given, classes you've taught, etc.
• Do not forget to tell about your interests and any other information you think might be useful.
• Finally, check you spelling and grammar or as a friend to do this for you.
CV sample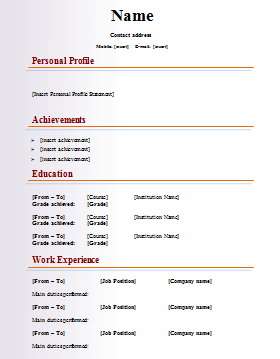 How to write a cover letter?
Firstly, I highly recommend you to do this. A cover letter typically accompanies each resume you send out. Your cover letter may make the difference between obtaining a job interview and having your resume ignored, so it makes good sense to devote the necessary time and effort to writing effective cover letters. Before writing it, you should choose from all
job opportunities
to which position you apply and dedicate one letter to only one job vacancy.
Effective cover letters:
• Explain the reasons for your interest in the specific organization and identify your most relevant skills or experiences (remember, relevance is determined by the employer's self-interest).
• They should express a high level of interest and knowledge about the position.
• You can also add to it some information from the job opening or company's website.
I hope this helped and wish you to find your dream job! I've already done that on MoboFree! Do not forget to put all your effort to it and leave a comment how did it go
Edited by TechBoy / 18 Aug 2014 16:18